Cycling and skirts aren't always the best of friends.
I've caught petticoats and long skirts in my rear brakes.
I've occasionally realised a skirts has been obscure my rear light.
I've accidentally flashed my underwear at passers by more then once.
That's less than ideal for everyone involved.
But I have found a solution!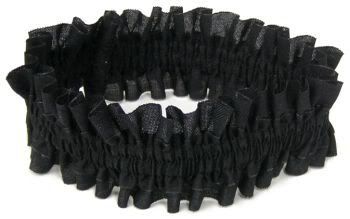 That's right, a garter!
I wear it just above my knee and pin the fabric of my skirts to it with a safety pin.
Since I've been using it I've not revealed my crotch to any unfortunate strangers in the street.
Success.